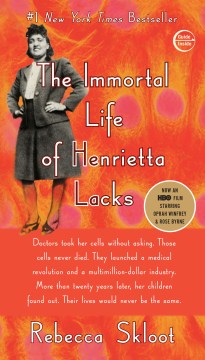 This book has been on my to be read list for ages. I think the time has come to actually sit down to it. From everything I have read this would be a great book club selection.
One reviewer comments:
Intimate in feeling, astonishing in scope, and impossible to put down, The Immortal Life of Henrietta Lacks captures the beauty and drama of scientific discovery, as well as its human consequences.
We now have it in stock in a trade paperback edition.
From the Prologue:
The Woman in the Photograph
There's a photo on my wall of a woman I've never met, its left corner torn and patched together with tape. She looks straight into the camera and smiles, hands on hips, dress suit neatly pressed, lips painted deep red. It's the late 1940s and she hasn't yet reached the age of thirty. Her light brown skin is smooth, her eyes still young and playful, oblivious to the tumor growing inside her—a tumor that would leave her five children motherless and change the future of medicine. Beneath the photo, a caption says her name is "Henrietta Lacks, Helen Lane or Helen Larson."

No one knows who took that picture, but it's appeared hundreds of times in magazines and science textbooks, on blogs and laboratory walls. She's usually identified as Helen Lane, but often she has no name at all. She's simply called HeLa, the code name given to the world's first immortal human cells—her cells, cut from her cervix just months before she died.

Her real name is Henrietta Lacks.
Part science, biography, and history this book deals with the many of the issues we see in the front pages of the news every day and which are at the center of some of the most fierce culture wars and ethical debates. I am really looking forward to reading this book.
We now have it in stock in trade paperback. You can also buy the book online, read this book on your ereader or download the audio book to listen to on your ipod or MP3 player.
Purchase at our online store here: The Immortal Life of Henrietta Lacks
Download the audiobook at this link
Or, download it to read on your ereader of choice (Kindle excepted) here: The Immortal Life of Henrietta Lacks